A wonderful day was had by all at our 9th annual Spring Symposium. Please see our pictures of this event Doctoral Spring Symposium
Once again we want to thank our guest panel speakers:
Dr. Jewel Cherry, Dr. Wayne Matthews, Dr. Leslie McKesson, Dr. Melanie Mikusa, John Robinson and Dr. David Stegall,
We would also like to thank Dr. Alice Pheobe Naylor and Dr. Jim Killacky for their continual support of our Doctoral Program and students.
Congratulations to Dr. Leslie McKesson, this year's Naylor Award Winner for the Outstanding Dissertation entitled:
DETERMINED TO RISE: A CONCEPTUAL AND COUNTER-NARRATIVE ANALYSIS OF THE HIGHER EDUCATION ATTAINMENT EXPERIENCES OF THREE AFRICAN AMERICAN MEN
And CONGRATULATIONS to all this year's nominees of this distinguished award:
Dr. Mona Abinader- DEVELOPING ONLINE COMMUNITIES: A STUDY OF THE PROCESSES THAT FACILITATE AND FOSTER ONLINE LEARNING COMMUNITIES
Dr. Jodi Grubb- SEEING THE FRACTAL: A COLLECTIVE CASE STUDY EXPLORING SUSTAINABLE CHANGE IN INCLUSIVE SETTINGS
Dr. Lindsay Ruggles- AN EXPLORATORY ANALYSIS OF SCHOOL, TEACHER, AND STUDENT CHARACTERISTICS AT EARLY COLLEGE HIGH SCHOOLS AND SELECTED HIGH SCHOOLS IN NORTH CAROLINA
Celebrating our students, alumni and faculty! Thank you all for an amazing day!
A special Thanks to Linda Coutant for her article Educational leaders share thoughts on challenges and solutions in K-12 schools and community colleges
And the mention from our Chancellor, Sheri Everts- The Art and Heart of Teaching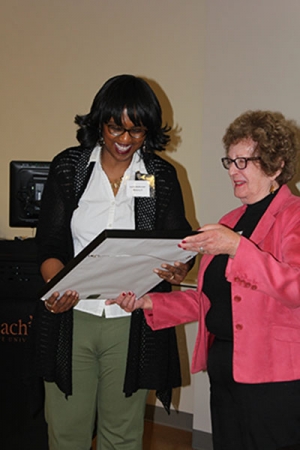 Tags: