Two doctoral students; Tonya Moore, Bronwyn Harris; undergraduate special education student, Sydney Shadrick; and Department of Reading Education and Special Education Professor, David Koppenhaver, presented at the Ocalicon Conference on Friday, November 13, 2020. Ocalicon is the nation's premier autism and disability conference.
Their topic was titled Inclusive Literacy Practices that Work Across Virtual and Real-World Settings. Tonya Moore stated, "we know that these times are challenging for students, families, and teachers. They are especially challenging for students with disabilities such as autism or cognitive disabilities. In our presentation, we described the principles and practices of inclusive reading and writing instructional practices. We also shared strategies and technologies that can be used to support inclusive literacy instruction in both online and face-to-face instructional settings."
Congratulations to all our students for being apart of this important conference!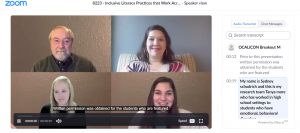 Tags: