In a world divided along many lines, where individualism and personal ambition breed polarization, it is easy to get caught up in the rhetoric and lose sight of our own biases in such a way that we contribute to social problems rather than participating in their solutions. We hope to enlighten, encourage, and challenge every person to continually question her or his personal racial and cultural predispositions and to practice social justice. By taking a fresh and critical look at what we hold as "truth" and why, we can expand our individual capacities for greater humanitarianism, potentially changing the world one person at a time.
Leslie Dula McKesson is an educational administrator, author, and speaker who creates generative, authentic, and transitional spaces for the consideration of race and racism. From an early age, Leslie has been compelled to work toward a more just and egalitarian world. A few years ago she published a family memoir recounting the story of the relationship between a slave and slave-owner who were her ancestors, and quickly discovered that their story provided a backdrop for the valuable consideration of the role of race and racism in America. In a society divided along many lines, her goal is to enlighten, encourage, and challenge every person to continually expand his or her capacity for greater humanitarianism.
This talk was given at a TEDx event using the TED conference format but independently organized by a local community. Learn more at http://ted.com/tedx.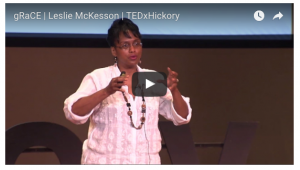 Tags: