Each year recent graduates of the Doctoral Program in Educational Leadership are nominated for the Alice Phoebe Naylor Outstanding Dissertation Award. The 2020-2021 academic year marks the 13th anniversary of the Naylor Award, which is the highest honor of the Doctoral Program. A review committee will evaluate each dissertation and make a recommendation for the award winner, by the end of the summer. The award winner will be formally announced at the Fall Doctoral Symposium in early November.
The nominees and their dissertation titles for the 2020-2021 Naylor Award are:
Dr. Alex McAllister: "Space Invasion In The Academic Library: A Poststructural Analysis Using Discourse, Power/Knowledge, And Biopower"
Dr. Ashley Pennell: "The Development Of First Graders' Word Knowledge And The Influence Of Phonics Instruction"
Dr. Chris Gilbert: "Participatory Action Research with Teacher Activists: Walking the Spiral and "Making the Invisible Visible""
Dr. Heath Robertson: "The Effect Of Decolonization Of The North Carolina American History I Curriculum From The Indigenous Perspective"
Dr. Heather Freeman: "An Autoethnographic Approach To Fostering Equity And Empowerment For Students, Teachers, And Families Through Transformative Leadership And Reflective Practice"
Dr. Heather Jo Mashburn: "Shipwreck And Spirituality: College Women's Experiences Of Encountering Deep Challenge And Surfacing With Renewed Purpose"
Best of luck to each nominee, and thank you for your commitment to engaged, evocative, and professionally powerful research. The Doctoral Program is proud to call you one of our graduates!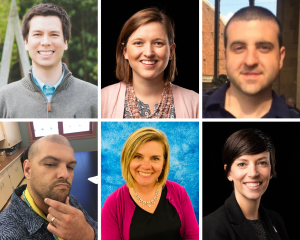 Tags: