Last Friday, July 16, 2021, the Doctoral Program hosted its first hybrid new student orientation for the upcoming Fall 2021 cohort. This meeting was the first time students had stepped foot inside the Doctoral suite in 18 months following the pandemic. For the students who could not attend in person, Zoom was integrated to allow everyone to still be in one space. The eighteen incoming students learned about their colleagues' experiences, the program's format, and the resources available to support them throughout their journey.
When asked what students gained from this experience, some answered,
"It was fantastic getting to meet in person! I am so excited to be a part of this cohort and learn from others."
"Getting to meet my fellow students, either in-person or over Zoom, along with getting to meet the program leaders. I also enjoyed hearing from the two current doctorate students and learning about their lived experiences in the program."
"Trust the process. I think it's easy to want to "be in control," but it was reassuring to hear from students that are further along in the program about the merits of the program and that they were feeling supported."
The Doctoral Program is looking forward to these new perspectives, energy, and enthusiasm!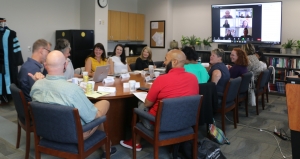 Tags: